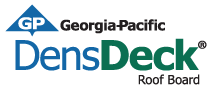 With billions of square feet installed in a complete range of roofing systems and climate extremes, DensDeck® Roof Boards have proven their toughness and versatility. The unique construction has been shown to withstand delamination, deterioration, warping and job site damage far more effectively than paper-faced gypsum board and other conventional roofing products such as wood fiberboard and perlite.
Provides superior fire protection
Fire, rot and hail resistant
Holds up well under normal construction and maintenance foot traffic while stiffening and stabilizing roof decks
Easy to install in all types of roof systems
Ideal product for direct membrane application
Tested within roofing systems for sound isolation
DensDeck
DensDeck® is designed to address persistent challenges inherent in commercial roofing assemblies: fire resistance, strength and dimensional stability when installed in a properly designed roof assembly. DensDeck is a fiberglass mat-faced, noncombustible (as described and tested in accordance with ASTM E 136), nonstructural, gypsum core panel.
DensDeck Prime
DensDeck® Prime combines all the features of standard DensDeck with an enhanced surface treatment. The green surface coating allows uniform spreading of adhesives, which results in a stronger, more consistent bond. For cold mastic and torch applied modified bitumen as well as all fully adhered single-ply systems, DensDeck Prime provides a stronger, more economical installation by reducing the amount of mastic or adhesive, potentially eliminating the field primer and reducing the number of fasteners required to achieve high wind uplift values. Consult with membrane manufacturer for actual priming requirements.
GP DensDeck Roof Board Technical Guide