Introducing Firestone Jet Bond Spray Adhesive
Firestone is proud to announce the launch of Jet Bond, a new, low-temperature, LVOC sprayable bonding adhesive. This easy-to-use, pressurized canister adhesive is ideal for use in adhering membrane to both vertical and horizontal surfaces (codes pending). This product is designed for contractors looking for a fast, easily applied, adhesive product without the use of additional spray equipment.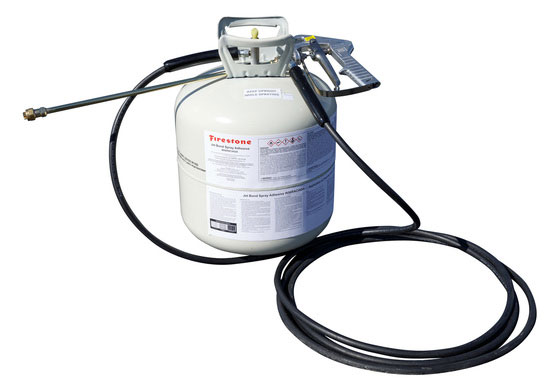 With Firestone Jet Bond sprayable bonding adhesive there is less complexity than standard bonding adhesive application, with no mixing required, and simple set-up for product use. Jet Bond provides excellent adhesion of Firestone RubberGard EPDM, EcoWhite EPDM, UltraPly TPO and TPO XR roofing membranes and flashings to approved substrates.
In addition, Firestone offers a LVOC Canister Flush Solution for easy clean up, as well as available to order replacement tips, and three lengths of hoses. Jet Bond sprayable bonding adhesive and LVOC Canister Flush Solution and accessories provide the high quality, dependable solutions our customers are accustomed to.
Product availability date: Monday, December 16th, 2019
Part Numbers to Order:
| | |
| --- | --- |
| W56RACIASA | Jet Bond Spray Adhesive |
| W56RAC1696 | Firestone LVOC Canister Flush Solution |
| W56RACINTH | Canister Spray Gun |
| W56RACINTI | Canister Spray Gun Extended |
| W56RACINTJ | Replacement tips, 5pk. |
| W56RACIAPRL | 6 ft Canister Hose |
| W56RACIAPRM | 12 ft Canister Hose |
| W56RACIAPRN | 18 ft Canister Hose |
Product Details:
Approved for adhering the following membranes to approved substrates: Firestone RubberGard EPDM, EcoWhite EPDM, UltraPly TPO, FlexAdhered TPO, TPO XR.
Adhesive may be applied at ambient temperatures as low as 25 °F (-4 °C) and rising.
Product may be opened and used for up to 60 days after opening.
Ensure canister temperature is minimum of 70 °F (21 °C).
12-month shelf-life.
Coverage rate per canister:
— 800 – 1000 ft²/canister (19.6 – 24.5 m²/canister) for smooth backed membranes
— 650 – 750 ft²/canister (16 – 18.4 m²/canister) for TPO XR fleece backed membrane
Firestone Technical Information:
For additional product information, please refer to the Technical Information Sheets, Safety Data Sheet, and Application Guide below.
Jet Bond TIS
Jet Bond Safety Data Sheet
Jet Bond Application Guide