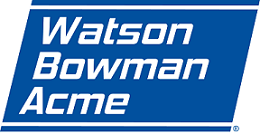 The Most Recognized and Trusted Name for Expansion Control Systems
Watson Bowman Acme is recognized as the worldwide leader in the innovation and development of expansion control systems for the construction industry. Using its leadership position in the bridge and parking structure markets, WBA has utilized its design knowledge and world-class manufacturing capabilities to provide a quality line of engineered expansion control systems for both interior and exterior applications for your project. Seismic requirements, heavy loading, watertight applications and fire endurance ratings up to four hours are all benefits and features displayed in its systems.
WBA offers the design and construction community a broad portfolio of design options and custom solutions that will meet your project's form, fit and functional requirements. Creative hallmarks such as aesthetics, performance, durability and life safety are engineered into each Wabo branded system.
WBA believes in collaboration with their valued customers and innovation to provide real value and engineered solutions supported by the best in class customer service that you would expect from a world-class leader and BASF Company.